TORLEIK


Death follows into your watery grave

Icy blue eyes turned upward toward the moon, the large black Friesian stallion cocked his anvil head to the side slightly. This moon...unnatural, he thought to himself. How many days had passed? With the white orb firmly affixed in the sky as it was, time was hard to discern. His circadian rhythm was skewed and of little help. The massive beast was not sure the last time he actually slept.

Breaking the siren's call of the pale disc, Torleik directed his attention downward, pawing at the ground briefly. The ground was frosty and crunched like broken glass beneath his hooves. His travels had brought him to this place, whatever it was, and he wished to find a part of it that felt like home. Home. The thought was tinged with muted anger and regret. He had no home now, no place to find solace. Snorting in irritation, the tacit beast picked up his pace, slipping into a trot. North. Always north.

North was like home. North was right.

The cold. The frost. The ice. These things were familiar to him. The black rabicano narrowed his chilly blue orbs and slowed his pace when he sensed that perhaps he was no longer alone. Most likely his broken isolation came from resident wildlife or a simple change in the air; it had a funny quality, air - normal one moment, thick with purpose the next.

Torleik halted, unafraid."Show yourself," the stallion commanded calmly, unperturbed at the silence that met his vocalization. He could be patient. Something was out there. That much he knew.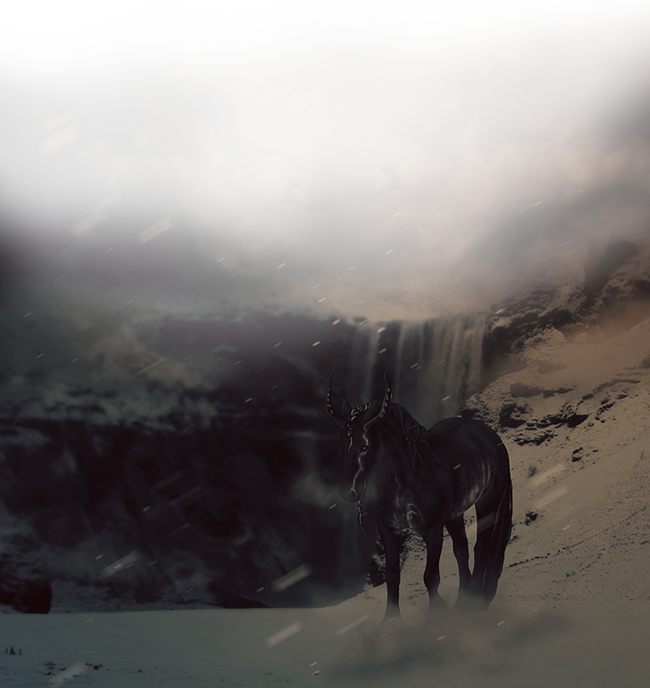 Afrolovertje & ximpossible @ DA
No man is an island.
Pixel by: Tamme :D
Please tag me in all posts! Thank you!