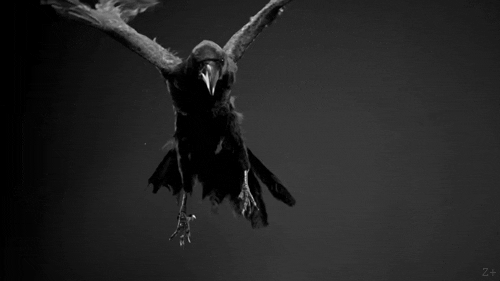 Oh Mother, I can feel the soil fall over my head.
She is nothing.  In her soul...
her heart
...she knows the truth.  She is just one of many, blurring into the background like something dead and forgotten.  Her mind is numb, moving her body like a machine with each feathered movement through the misty morning.  Exhaustion weighed heavily upon her muscles, making her lingering flight slow and descend towards the earth.  Her surroundings were unfamiliar, but the thought never crossed her mind.  Her vision blurred as her delicate limbs touched the ground, slowing her to a brisk walk.  Inky orbs circled in her skull, searching for the black blur that darted above.  A sharp sound echoed as a soft whisper hit her ears.
I'm here, my dear.
I know you are...
Sospes' soft voice lingered in her mind while he landed in the branches above her. Pieces of bark and dying leaves fell from the trees, littering her peppery hair.  She stretched a wing, using the strong feathers poking out from the edge to brush away the debris. With a sigh she tucked the limb against her, moving forward through the strange forest that loomed before her.
Do you know where we are, Sos?
No...
Good.
She moved slowly, ducking under lower branches and squeezing her thin frame through the borough.  Every sound of the woods made her twitch. It has been almost two years since she became a nobody, since...that night.  She shouldn't think of it.  Her flesh trembled as her head started to pound.  The shrill protest of her bonded as he shared her pain seemed so far away as she slipped into her memories.  Flashes of red flooded her, the sounds of her hooves on the wooded floor sounding like the crunching of bones.  Her walk ended, her limbs crumbling under her.
Idolum, look at the flowers.
What flowers?  Everything is black and red.  Nothing is alive, Sos.  There are no flowers...
She curled herself into a tight ball, rocking back and forth.  Her bonded landed near her, careful not to touch.  Anxiety and flashbacks fill her, and although she tried to listen to her zephyr's words, she couldn't perform the little ritual that calms her down.  Her breathing was ragged, and she felt like a squashed insect.
The flowers, Idolum.  Where are the flowers?  The pretty flowers..."
Her eyes opened slightly, a wing reaching out and brushing against the daisies and dandelions next to her.  Sospes began to hum a lullaby, using his magic to brighten the area around them.  He created a dream for her, with a bright sun, beautiful flowers and a gentle song, and soon, the panicky mare drifted off.
@Tilney || good luck getting past Sospes! XD