Carry on my wayward son
There'll be peace when you are gone
Amalrik sauntered toward the crowds on the beach cleaning up and clearing, and he sighed. The water thing (god it was so fucking ugly), told them to clean up the beach. Why he couldn't do it himself, he didn't know. Normally, he would stand to the side and watch, but peer pressure was so very real. He would have to do this and hopefully some hot young thing like Oizys would see him working and find admiration in his physique.

The young stallion saw Ellie nearby too and made a slight face. His little cousin was sweet and precious, but she could also be a buzzkill. Still, she needed to loosen up and get the gigantic stick out of her butt. Ellie was too much like her mother that way. Amalrik yelled at her to come over and they started their own pile, tossing leaves and sticks on top. "You got this, Ells?" he asked her kindly.

For all of his blustering and asshole behavior, he was a sweet kid on the side, and he absolutely adored his baby cousin. Even when he was smirking in his wicked, bad boy kind of way, his eyes softened like golden honey when they landed on Ellie. He as definitely different than his father - better even.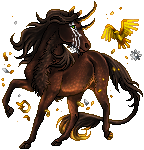 Please tag me in every post