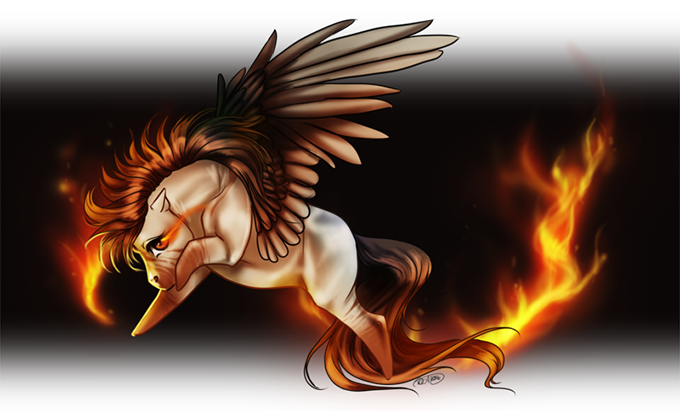 It had been with no shortage of frustration that Vastra arrived on the southern banks of Helovia, lured by a strange booming voice, only to discover that an awful lot of water separated her from the gathering on the other side.  What was going on over there?!

If she had a companion like her mother she could send it over to scope things out but as it was, she was on her own with a set of wings that were only just starting to be less down-covered. With a huff, she paced back and forth along the beach trying to riddle out a solution (or to work up the nerve to squash her curiosity and turn away from this New Thing).

Luckily enough for her, something wonderful happened.

With a tremor underneath her hooves, her brown eyes watched in fascination as stones and all manner of things started to collect and make a bridge. Vastra was pretty new to the world, sure, but she had visited this coast enough times to know that this bridge had not been there before. Her lessons on how she should avoid strangers had been minimal - and they certainly went right out the window when she had needed to approach strangers to find out if they had seen her family. Besides, how was she ever going to learn anything if she didn't explore? If she didn't ask questions?

So without hesitation, the red dun filly stepped onto the bridge and trotted across it. She paused intermittently, not out of any fear that the ground might fall out from beneath her but more so that she could inspect the rocks and bones and bits of driftwood that had been used to construct the bridge. It hardly seemed morbid to her that there would be bones - and on one of her stops she considered picking up a few strange ones she had never seen before. But she hurried herself along, the curiosity about the large group of horses gathering on the island outweighing her fascination with the bridge she was taking to get there.

Without a peep she mingled herself into the crowd, not recognizing anyone and not caring who she stood next to - her bright eyes were only focused on the New Thing - the strange sea creature that everyone else was looking at.


come on, come on
put your hands into the fire