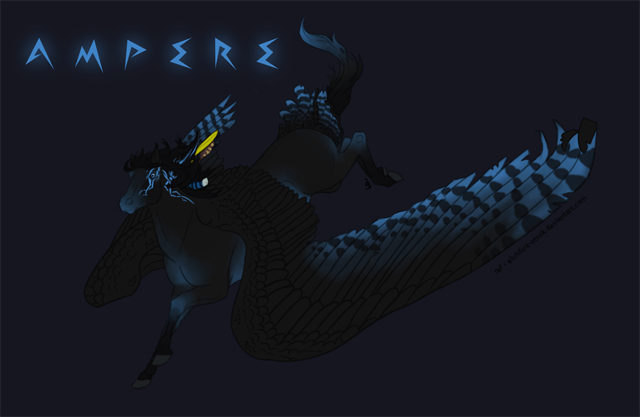 Leaves rustled and feathers whispered as Ampere landed in a large fir tree, one of the few evergreens around that could bring color to this smothered world. Nestled up safe int he Dragon's Throat Ampere hadn't quite realized how heavily winter had settled in. It was colder in the Throat to be sure, especially at night when their god's protection was at its weakest, but this was absurd. "It's like the north became a weed and overgrew the entire land," she complained, her breath a rush of visible exhaust which quickly dispersed.
She took a few steps forward, balancing precariously on branches, so that she could crane her neck around and peer better at the strange rotunda. As she did her withers bumped a bough, which was more than happy to unburden its snow onto her. A sudden strike of cold rippled down Ampere's ears. She shied to one side with a squeal that was quite un-warrior like. The movement, fine on the ground, overstepped the boundaries of her tree and cast one leg off the bark encrusted ledge. Her wings flared up to help catch her balance, but they were mostly useless in the tangle of branches.
Once Ampere realized the sequence of events she burned hot with embarrassment and hauled herself back onto 'steady' footing on the boughs. She shook her head and the snow clinging to it with annoyance, snorting out more plumes of breath.
It wouldn't be so bad if it wasn't for the fact Ampere was stuck on patrol with a
kid
. She thought for sure she was being punished, likely by Gaucho, when the orders were sent out. Not just any kid even, but a wet babe basically, not even a year old! This was babysitting in disguise, not a patrol. So since they'd left the Throat Ampere had been in a sour mood, hellbent on finishing as early as they could and heading back so she could do some
real
patrolling around the borders.
"Kari," she hissed through the trees, not even sure where the colt had gone off to - she hadn't been paying very close attention and may have flown faster than necessary.
He has to learn to keep up
, Ampere justified to herself, but now she was cold and wet and the silence of winter was stifling. If there were no birds to chirp in her ear, there should at least be a colt.